Pegasus was the son of Poseidon and Medusa, having sprung from the blood of Medusa as it dropped into the sea after her head was severed by Perseus. Pegasus appears again and again throughout mythology. He was captured by Bellerophon at the water of his fountain and was ridden by him when he killed Chimera. Pegasus became the thundering horse of Zeus which is why he appears among the stars.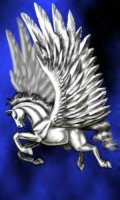 Pegasus was a wild and winged steed who was ultimately tamed by Bellerophon by using a golden bridle he received in a dream from Athena. Bellerophon showed disrespect to the Gods as he attempted to ride Pegasus to Mount Olympus and Zeus sent an insect to sting Pegasus and Bellerophon was thrown back. Pegasus found sanctuary on the sacred mountain, where he carried Zeus' thunderbolts and was ridden by Eos, the goddess of dawn. Pegasus became a popular subject for artists, since from under his feet sprang the sacred springs of the Muses (goddesses of inspiration) on Mount Helicon.
I have always loved the story and the beauty of the Pegasus. I don't know why, I just do.

If you stopped by here, and by the way, thank you for coming here, you probably wanted to know more than just the story of the Pegasus.
My name is Amanda and I'm a 27 year old pickup driving boy-crazy gal from the northeast corner of Missouri. I haven't always lived here. You see, I'm what you call an Army brat. My dad served almost 21 years in the Army. While he was in the Army, we moved all over. I was born in Fort Carson (Colorado Springs) Colorado. From there we went to Augsburg Germany and then on to Fort Stewart Georgia. Next was Columbia, Mexico, Hannibal and Palmyra, all in Missouri. After that was Salina Kansas, Neu Ulm Germany, Heidelberg Germany, and lastly Fort Bliss (El Paso), TX. I graduated from high school there and Dad retired from the Army. That's when we moved back to Missouri.



| | |
| --- | --- |
| Maybe you've heard of some of our famous residents: Mark McGwire plays for the St Louis Cardinals, Brad Pitt grew up in Springfield Missouri, and author Mark Twain. WWF's Kane grew up just down the road from here in Bowling Green. We've even had a President from Missouri: Harry S. Truman. | |
| | |
I work in a factory making automotive cables for mostly Ford. We have a couple of lines that make Chrysler cables but that's about it. I work on a line making hood release cables for the Ford F-Series trucks and Lincoln Navigators.
I was laid off a couple of years ago from a job that I had been at for nearly three years, and during my time off I got take two vacations. One out west to South Dakota, Wyoming and Colorado. My second trip was to Louisana.

I am very much into the gothic stories about Ravenloft. I have been reading books based on Strahd von Zarovich. I have read just about all of the Ravenloft books. I have also found a really cool series of vampire books that take place in St. Louis. They're written by Laurell K. Hamilton. The Anita Blake Vampire Hunter series is incredibly addictive!
I have become totally addicted to this game called The Sims. If you ever liked the game, SimCity, then you'll love this game. You get to control the lives of the Sims, the people who live in SimCity.
I also love to watch WWF wrestling!! I wish the WWF would quit shoving WCW down our throats, WCW is like the minor leagues of wrestling. It's for the has beens, wanna-bes, never-going-to-happens. My favorite wrestlers are Triple H and The Undertaker.



I am owned by two loveable little animals, Joey and Sam. Check out their page!
I am also, as you can tell, into dabbling with HTML and designing my webpages. Paint Shop Pro helped me back the background for this page and others on this site. On my days off and nites when I cannot sleep, my page suffers random violent changes. *muhahaha* Come back often to see what I've changed recently :)
I love to watch movies. I think my all time favorite movie is Father Goose, with Arsenic and Old Lace running a close second. Both star Cary Grant. Of the newer movies I like the action titles, like any movie that stars Arnold Schwartznegger. And of course Science Fiction. Titanic was good, for one viewing. They overkilled that movie in my opinion, plus I'm not the weepy sappy type either.

| | |
| --- | --- |
| | I own a DVD player that's hooked into my "home theater". DVDs are so awesome. Not only do you get extras that you don't on a VHS tape, but clarity and sound is so much better. It's like the difference between listening to a cassette tape and listening to a CD. The CD blows the cassette tape outta the water! Currently I own the following DVD movies: The Fifth Element, Meet Joe Black, The Patriot, Sleepy Hollow, Toy Story, Toy Story 2, Lost In Space, Mars Attacks!, Practical Magic, Star Trek: First Contact, Star Trek: Insurrection, The Mummy, The Man in the Iron Mask, Pleasantville, The Shadow, Air Force One, Gone With the Wind, Wizard of Oz, The Bride of Frankenstein, Merlin, Antz, The Matrix, Con Air, The Messenger, Tarzan, A Bug's Life, Interview with the Vampire, Gladiator, Terminator 2 - The Ulitimate DVD Edition, Young Frankenstein, Ever After, Anna and The King, Saving Private Ryan, Oh Brother Where Art Thou, Lord of the Rings - The Fellowship of the Ring, Monsters Inc, Spiderman, Star Trek Next Generation Season 1, Scorpion King, Star Wars The Phantom Menance, Star Wars Attack of the Clones, Shrek, and Dirty Dancing. |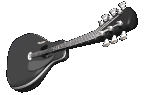 I listen to a variety of music. I don't just stick to one type, if it's good, I like it. But that's *my* opinion of what's good or not. Here's a few of the ones that I like. Here's a list of a few that I listen to.

| | | |
| --- | --- | --- |
| Country Music | | Rock, Pop, and Other |
| Aaron Tippin, Clay Walker, Clint Black, Garth Brooks, Gary Allen, George Strait, Lonestar, Mindy McCready, Mary-Chapin Carpenter, and Reba McEntire. | | Saliva, Godsmack, Nickelback, Aerosmith, Billie Myers, Matchbox Twenty, George Michael, Limp Bizkit, Madonna, Melissa Etheridge, Prince, Roxette, Savage Garden, Sugar Ray, U2, and The Wallflowers. |
So you want to chat with me? There some different ways of doing that. First is by ICQ. My ICQ number is: #244909. Another program is AOL's Instant Messenger. It is very similar to ICQ. My nickname on there is AmandaOfQ.
Now what on earth would a homepage be if it didn't have links to everything under the sun??? Links to places that just make you go "Hmmmm...." Well this page ain't any different baby!! Check out my massive amount links.
But first!!! Before you leave this page, please, PLEASE, P L E A S E, sign my guestbook. Let me know what you think of all my hard work. Thanks. :) Please stop by anytime.
Sign my guestbook!
View my guestbook!
9-11-01
| | |
| --- | --- |
| September 11th. A terrible and horrific day in America's history. More people killed in this terrorist attack than the attack on Pearl Harbor. The events that took place in NYC, Washington D.C. and Pennsylvania will never be forgotten. The victims and their families will not be forgotten. | |